On Demand Domestic Hot Water Heating
Gas hot water heaters are efficient and effective. You now have the choice of traditional or tankless hot water systems. We would like to provide you with some information to help in the decision making process of your new water heater system.
Tankless, On-Demand Water Heaters
Rinnai Tankless water heaters are compact heating units that provide hot water as it is needed, and do no store hot water like traditional tank-type water heaters. When a hot water tap is turned on, water enters the tankless water heater. A sensor detects the water flow, and activates an electric or gas heating device, which quickly raises the water temperature to a preset level. When water flow stops, the heating element shuts off. Thermostatically-controlled tankless water heaters vary their output temperature according to water flow rate and inlet water temperature.
Enjoy up to 40% energy savings, endless hot water, and significant space savings.
Unlike traditional storage tank water heaters, tankless water heaters do not store a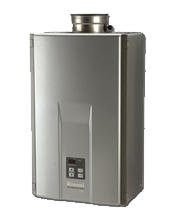 reservoir of hotwater. As a result, standby losses are reduced, which makes them an energy-efficient alternative to traditional water heating. When water flow is detected, they begin heating water, making them highly efficient and cost effective. When the demand for water ceases, they shut down and use no energy.
On-Demand, Tankless water heaters take up a fraction of the space consumed by a tank heater. They can also be mounted inside or outside.

Sweeney Rogers Geraghty has the Experience
With decades of experience in boiler systems and hydronics, our inside or field design staff can help with any application you are considering. Let us help you decipher you choices and make the ideal product choice for your application.