Peachtree City GA. January 17th, 2019.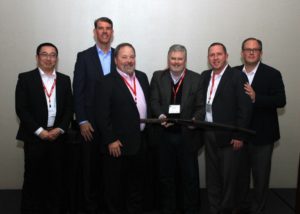 SRGI has been honored with the President's Award from Rinnai. The award is given annually to the top performing manufacturer's representative in North America. The award is an authentic samurai sword, and represents honor and service in the Japanese culture. The award also includes a trip to Japan for select members of SRGI's management team to tour manufacturing facilities and spend time with Rinnai Japan executive leadership. Present to receive the award from SRGI were Peter Sweeney, Kevin Geraghty and Ken Wiggin. "It's an honor to receive this prestigious award. Our success is due to the dedication of our employees and a great working relationship with Rinnai. Their ability to deliver the right products at the right time coupled with the support resources they provide really creates a winning combination between SRGI and Rinnai" said Ken Wiggin, VP of Channel Management from SRGI. The award comes on the back of a banner 2018 year for sales growth in the Northeast. Also factoring into the decision was SRGI's ability to train contractors, their new and improved organizational structure implemented in 2018, and SRGI's progressive attitude and early adoption of CRM and aligned employee metrics.  
SRGI is honored by the award and happy to have business partners like Rinnai who has a world class organization and pride themselves on being a technology and innovation leader. Rinnai, a leader in tankless water heating technology, is happy to introduce their new I-Series combination boiler providing best in class domestic hot water production and simultaneous space heating capabilities.
For more information, please visit their website www.rinnai.us or email sales@srgirep.com.