Orlando FL. April 10th, 2019.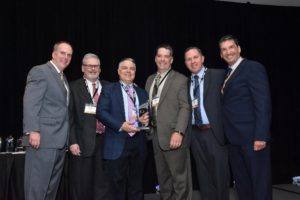 SRGI was honored by Weil McLain with the Top Revenue Growth Award at the annual sales meeting in April. The award follows a banner sales year in the Northeast. Overall sales in the territory grew double digits, but Weil McLain also credits SRGI's new organizational structure and performance based metric system as reasons why SRGI was recognized as it's top representative in the country. There to accept the award from SRGI was Peter Sweeney, Jeff Woods, John Murphy, and Ken Wiggin.
VP of Channel Management at SRGI, Jeff Woods on the award: "We are incredibly grateful to receive the growth award and attribute our success to the hard work of our entire sales and support teams and our joint ability to take advantage of favorable market conditions. Our real strength is derived from our strong partnership with Weil McLain and our open lines of communication. They've given us some great new products based on real market feedback that we are very excited about going forward"
Weil McLain continues to innovate and bring new and exciting products to market. A few products to be aware of are the new commercial condensing stainless steel firetube boiler, the SVF, the AquaBalance Series 2 high-efficiency combi boiler, and the AquaPro indirect tank built with longevity and durability in mind.
For more information please visit www.weil-mclain.com or email sales@srgirep.com